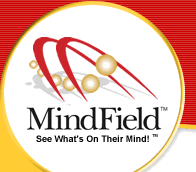 MindfieldOnline.com is another paid survey company. Unlike many of the paid online survey companies you may have run into like a SurveyScout.com or PaidSurveysOnline.com there is no fee to join this company. As stated in past survey reviews contrary to popular belief all paid online surveys are not scams. Please don't confuse the clickbank middleman websites with the actual marketing companies who would never charge you to take surveys.
Compared to other companies I have reviewed such as MySurvey.com and Pineconeresearch.com, MindfieldOnline.com isn't necessarily my top choice. They do tend to send a lot of paid surveys but the surveys tend to be very long and don't pay as much as they should for the time being required.
But if you do have the free time, then why not make the money taking as many of these surveys as possible. Their survey interface is pretty responsive and quick. I've never been stuck taking a survey. Unfortunately with other companies this hasn't always been the case. There have been times where after I've spent close to 20 minutes taking a survey and then sudenly the interface experienced some technical issues. This forced me to take the survey all over again from the start! Fortunately that hasn't been the case with MindfieldOnline.com
So would I still recommend MindFieldOnline.com as a way to make money legitimately with surveys? Yes, but not lots of it! MindFieldOnline.com is actually the real thing.
It's not a scam or ripoff like you've probably experienced with other survey websites. Is it always worth your time for the money they pay? Not always. But in the world of work at home, every dollar counts!
So for this review I'm only giving Mind Field Online 1 thumbs up. Although the company may not have many complaints or claims of fraud, I think the pay scale can be improved. I also think they should have a referral program so their members have more ways to earn besides the low paying surveys. But again the fact of the matter is you can earn money with MindFieldOnline.com so it's not a scam.